About me
I first encountered make-up in 1995, when I traveled to Paris as a photo model. This was followed by a long-term working stay in the USA, Japan, Italy, Germany, Austria. Throughout my career as a model, which lasted 18 years, I had the opportunity to see the work of make-up artists from all over the world, to learn various techniques and skills from them. I then completed my personal experience with a retraining course in beauticians, expanded it with a course in color typology and successfully completed a course in wedding and social hairstyles.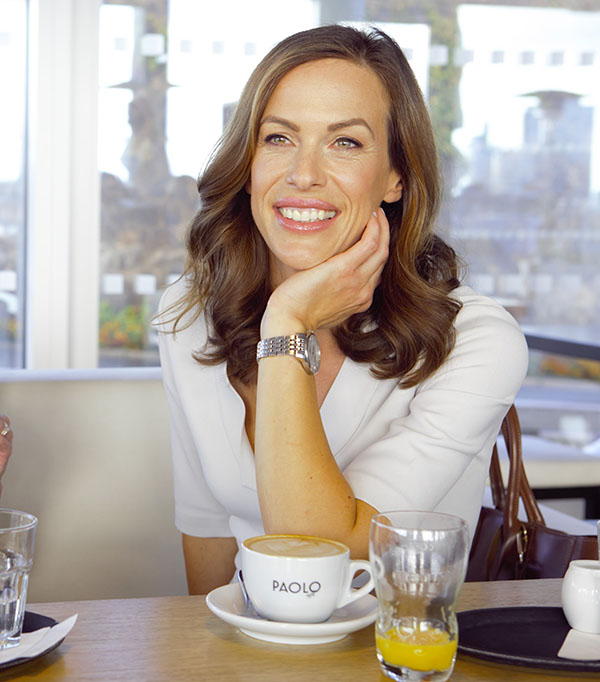 It is a priority for me to make every woman beautiful for any occasion.
I focus on:
wedding makeup and hairstyle
make-up for photography
makeup for photos
personal makeup courses
I will be happy to teach each of you to take care of yourself in a personal make-up course. I work with quality cosmetics such as MAC, Esté Lauder, Shiseido, Too Faced, Huda, etc.
Portfolio
Wedding makeup and hairstyle
Makeup for photos
Makeup for celebrations, balls, dance
Personal makeup courses
Achievements
Services
Wedding makeup and hairstyle
I prefer naturally seductive make-up that emphasizes feminine charm and lasts throughout the wedding day. I focus on highlighting your beautiful features, whether we choose a more expressive or natural makeup.
I choose a hairstyle that suits the whole style of wedding, dress and type of face. Wedding makeup and hairstyle lasts 2-3 hours and for the comfort of the bride and guests I am happy to come to the place of preparations.
Wedding rehearsal
Before the wedding, I meet the bride for a consultation and a make-up and hairstyle rehearsal. I take the exam 8 - 2 weeks before the wedding in the studio in Bosonohy on Pražská 156 in the 3rd floor. or in the comfort of your home (travel around Brno is free).
The test includes
- consultation, selection of suitable make-up, adjustment of eyebrows, make-up, possible use of eyelashes, 2-3 hairstyles and selection of the most suitable one, transformation (photo before and after make-up), photos of hairstyles that we will create at the exam so that the bride can think about everything and consult with friends. Test duration 2-3h.
For a better and more natural look, I recommend taking sufficient care of your skin. Because hydrated skin is the basis for beautiful makeup. Visits to a beautician, moisturizing serums, masks and creams, a drinking regime and certainly enough sleep are suitable. The evening before the wedding, I would not recommend consuming soups and savory foods that can cause swollen eyelids. Wash your hair the day before the wedding. If your hair is very oily, wash it on the wedding day.
Photo makeup
Makeup for photos has its specifics. Whether you are going to a glamor, fantasy, family, pregnancy or other photo shoot, I will adapt my make-up to the style of the photo shoot.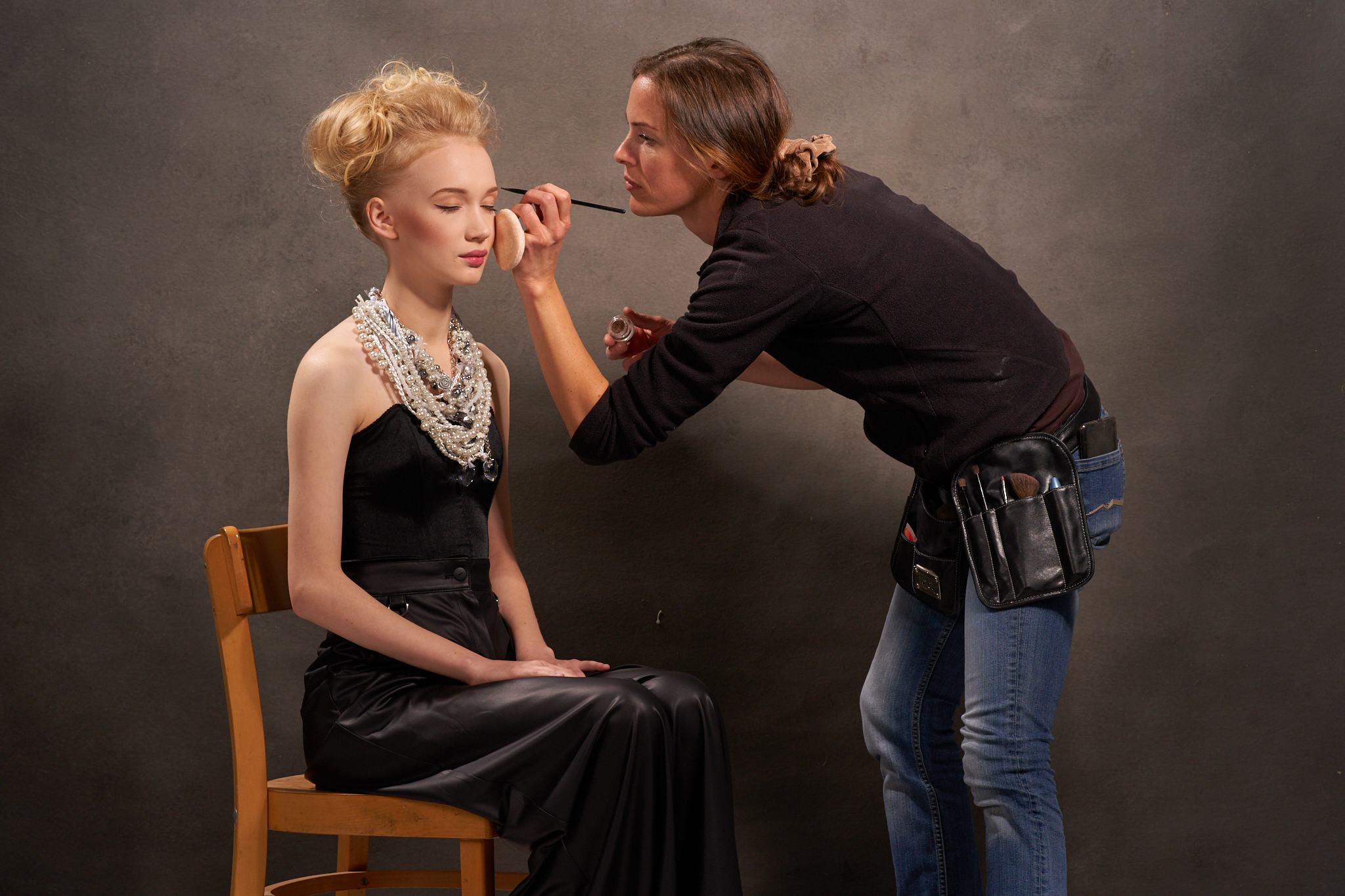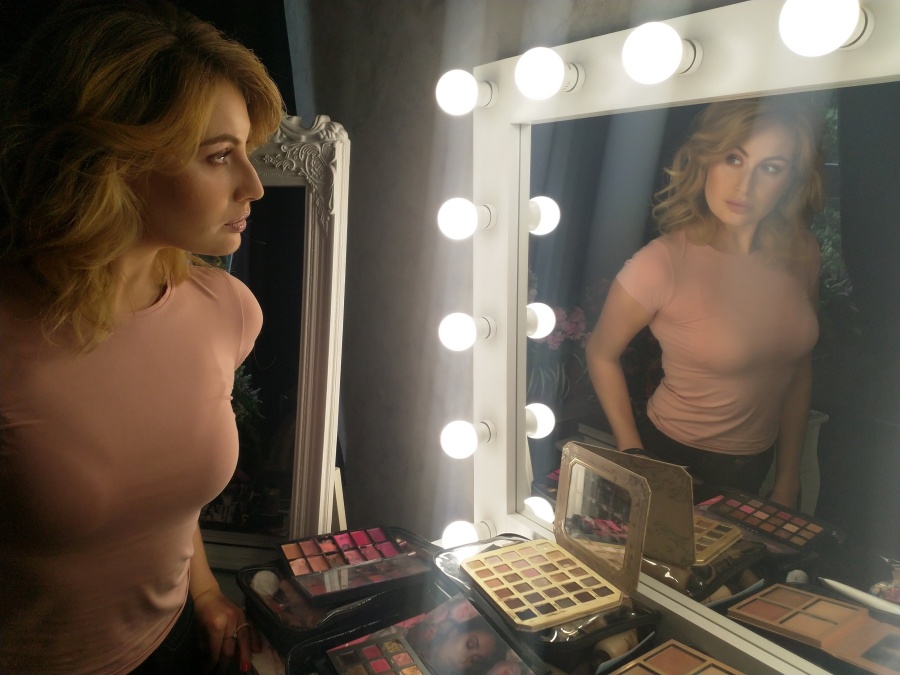 Personal make-up course
The aim of the course is to teach you the basic makeup techniques that are most suitable for your face. I will teach you how to choose the right shade of makeup and the technique of applying it, adjusting and drawing eyebrows, contouring the face, shading the eyes, brightening the face, applying the blush, etc. I will show you a lot of goodies and advise on buying suitable make-up. The course is also suitable as a gift for your loved ones (mom, girlfriend, mother-in-law, daughter)
Referrals
Petra Včelařová
Darča is a very nice person and a professional in his field. Under her hands, miracles are created. Both on the face and in the hair. The thematic make-up was breathtaking and lasted the whole photo shoot and even then, until the evening. And it was really hot. Nothing went wrong, I still looked beautiful. I can recommend to everyone!
Sarka Halamkova
Darinka was casting me only for the first time and I have to say that I probably never had a nicer make-up. And I've been in this industry for quite some time. She is very careful and really understands. I can only and only recommend
Tereza Lašanová
Darinka one of the most skilful make-up artists I had a chance to meet and I really met a lot of them. It's easy for me to get a license, and I usually go to bed. Here? There was no need here, because make-up and hair were perfect !!! Darinka knew what she was listening to, what was sitting for me and what I would look like best. So girls, if you think about who will bid you next, I'll answer! Darinka!!!!
Romana Halouzková
Darina is very nice, kind and talented! The result was absolutely stunning. It has been seen that he thinks of your make-up and does not make up for you other than to make your make-up saddle and fit you.
Monika Zálešáková
I can highly recommend Mrs. Darina. She did me beautiful makeup and a hairstyle for the wedding. Absolutely professional approach, very nice and helpful. Maximum satisfaction with her work.
Lenka Matýšková
Darinka did my wedding hairstyle and makeup like a bride. She is very handy and really understands her work. I was very happy and that day I felt really amazing like a princess thanks to her. I can only recommend! Darinka, thank you very much again for everything !!!
Petra Netopilová
Darina is very nice, kind and talented! The result was absolutely stunning. It has been seen that he thinks of your make-up and does not make up for you other than to make your make-up saddle and fit you.
Gift Voucher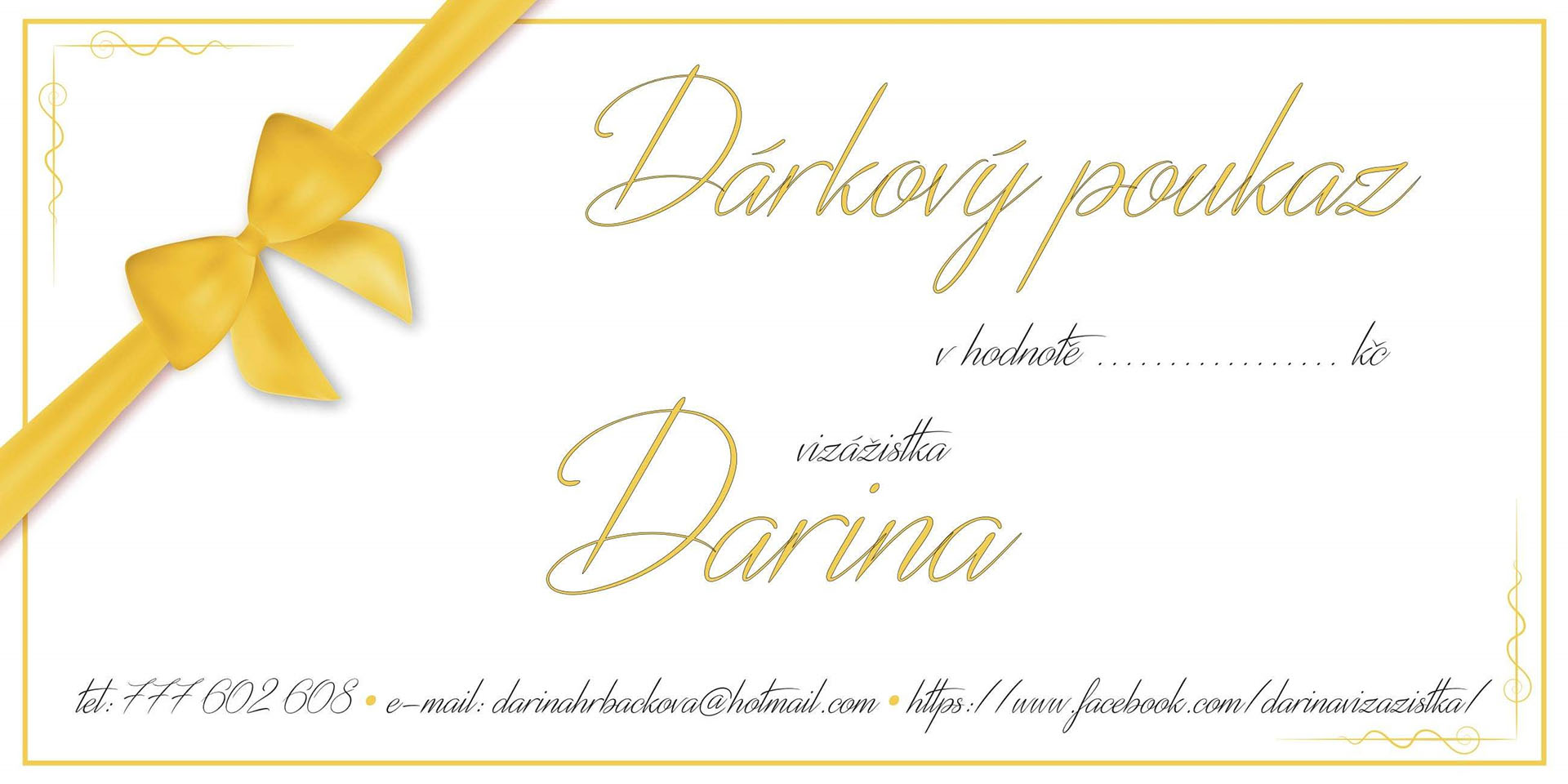 Contact
Write me
Do you have any questions? Do not hesitate to contact me. Call, send an e-mail or use the contact form.
I look forward to you.
Email:
darina.makeup@outlook.com